20/03/2018 13:51:48

Dear Ms Ruska,
 
I refer to your correspondence dated 20/03/2018 regarding a minor travelling to Ireland and am directed by the Minister for Justice and Equality to respond.
 
Please note the following which you may find useful regarding travel to Ireland of a minor (person under 18 years), in general and regardless of nationality.
 
Immigration Officers may ask questions to esta...
Read Full Post »
Vēl viens sertifikāts rokās - Ievads par mārketingu tiešsaistē! Jūtos gandarīta 
Today I got another one certificate  - The Online Marketing Fundamentals !  Feeling satisfied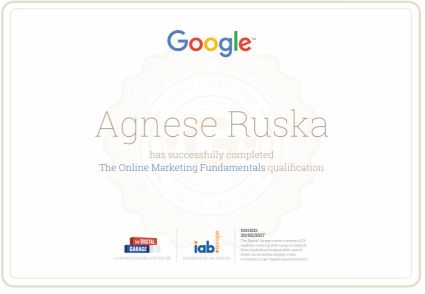 Pēdējā laikā bieži vien tiek apspriests LPSR laikā izsniegto civilstāvokļa aktu reģistrāciju apliecinošo dokumentu, t.i., dzimšanas apliecību, derīgums. Kā skaidro LR Vēstniecības Īrijā konsulārā daļa LPSR laikā izsniegtie civilstāvokļa aktu reģistrāciju apliecinošie dokumenti ir derīgi tikai Latvijas teritorijā, ja tie nav bo...
Read Full Post »
/